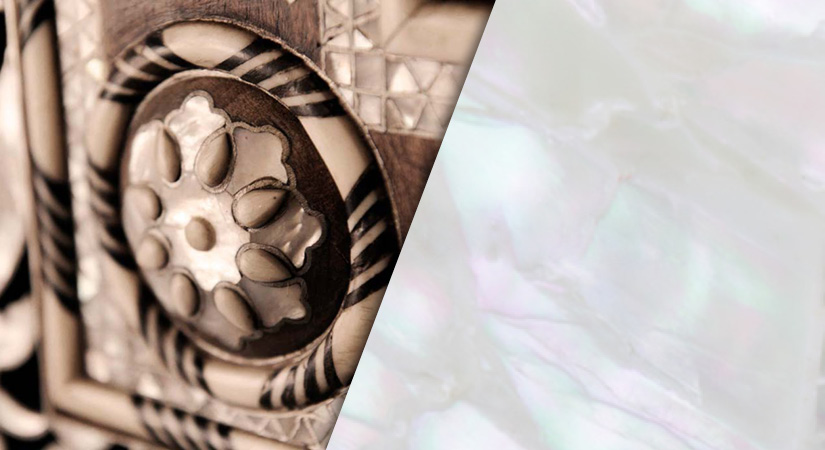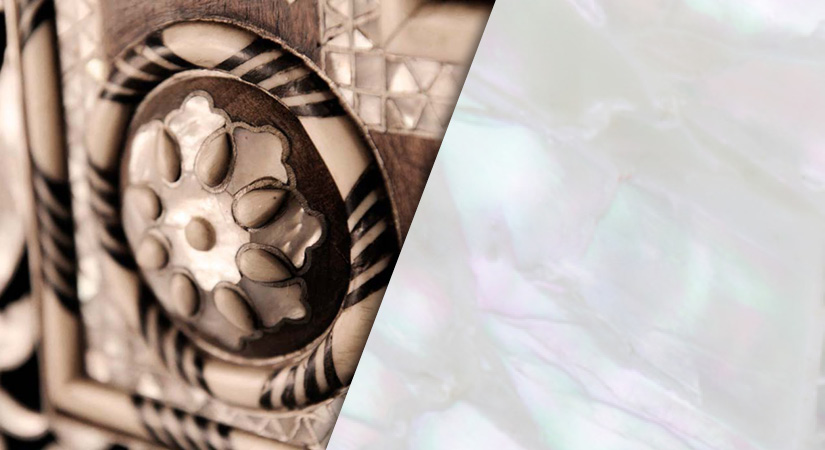 Mother of pearl is a beautiful substance that we use to craft our exquisite handmade furniture. Its rawest form is called nacre, which is derived from mollusc shells. Nacre is made of aragonite, a type of calcium carbonate, and takes the form of hexagonal platelets within the shells.
The Difference Between a Pearl and Mother of Pearl
Although pearls and mother of pearl are made of the same substance and are both derived from molluscs, they are not the same thing. The nacre that makes up mother of pearl is sourced from the thin layer that lines shells. Pearls, on the other hand, are small orbs that are created when nacre forms around an irritating particle inside the mollusc shells. As pearls are considerably rarer than mother of pearl, they are much more valuable and expensive.
Types of Mother of Pearl
There are five types of mother of pearl:
White - One of the most commonly-used types. This is derived from pearl-bearing oysters and is highly-reflective.

Iridescent - This type is pink and green in colour.

Chip - There are lots of different colours in this type.

Stone - This is white but is much less reflective.

Mat - This is a dull grey colour and not very reflective.
A Brief Mother of Pearl History
The art of crafting decorative items by combining mother of pearl with wood (known as inlaying or marquetry) has been practised for thousands of years, with each era putting its own stamp on the practice. The earliest known examples of mother of pearl marquetry are dated as far back as 4000BC. Sumerians used the material to craft tombstones.
Naturally, as time went on, the pretty colours and strikingly elegant appearance of mother of pearl led to it becoming more widely used by the wealthy in the Far East. It was in the 15th century that people began using the material to craft doors and windows, as well as indoor furniture pieces in mosques, palaces and mansions. The use of the craft peaked in the 17th century.
Schools of Mother of Pearl Crafting
Mother of pearl expert crafters recognise five different schools:
Viennese

Far Eastern

Istanbul

Jerusalem

Damascus
Each school has its own unique method of crafting pieces using mother of pearl and its own signature designs. At El Palacio Damaskino, we specialise in crafting Damascus pieces, beautiful, stylish and unique.
How We Use The Inlaying Method
We use the inlaying method to craft our furniture with mother of pearl. We mark the surface of a piece of furniture with a hard point. Our next step is to use a fine chisel to carve motifs into the furniture and apply wire to the grooves. We then carve out the outlines to a depth of 2-3 mm before we apply the mother of pearl inlays. This method that uses wiring is called Damascus Works.