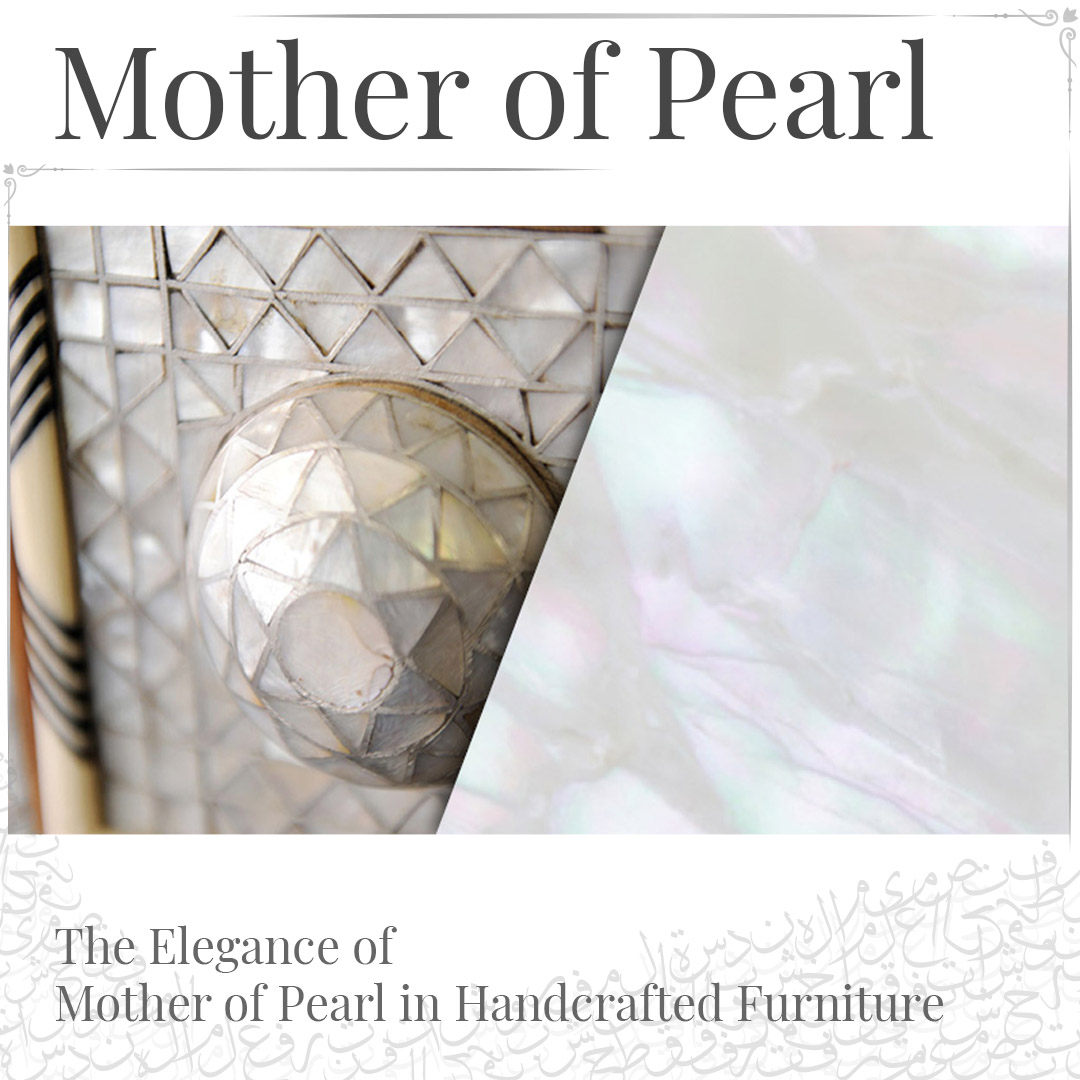 The Beauty of Mother of Pearl
In the realm of exquisite handmade furniture, the allure of mother of pearl takes center stage. Derived from mollusc shells in its rawest form known as nacre, this captivating substance becomes the canvas for our craftsmanship. Nacre, composed of aragonite, a type of calcium carbonate, forms delicate hexagonal platelets within the shells, creating a mesmerizing texture and sheen.
Discerning the Distinction: Pearl vs. Mother of Pearl
While both pearls and mother of pearl originate from molluscs and share the same fundamental material, they stand apart in essence. The luminous mother of pearl arises from the thin lining of shells, embodying an ethereal radiance. On the other hand, pearls emerge as small orbs, forming around an irritant within the shell. Due to their rarity, pearls command a significantly higher value than their mother of pearl counterparts.
Varieties of Mother of Pearl
Diverse in its manifestations, mother of pearl presents itself in five distinctive types:
White Mother of Pearl

p>Derived from pearl-bearing oysters, this commonly used variant boasts remarkable reflectivity.

Iridescent Mother of Pearl

With hues of pink and green, this variant emanates a captivating iridescence.

Chip Mother of Pearl

Displaying an array of colors, this type adds a vibrant touch to any creation.

Stone Mother of Pearl

Although less reflective, its pristine white shade exudes elegance.

Mat Mother of Pearl

Sporting a subdued grey hue, this variant offers a subtle charm.
Tracing the Heritage of Mother of Pearl
The art of inlaying or marquetry, a technique fusing mother of pearl with wood, boasts an ancient legacy spanning millennia. Dating back to 4000BC, the earliest instances of mother of pearl marquetry can be traced. From crafting tombstones in the Sumerian era to adorning the opulent interiors of Far Eastern palaces, mosques, and mansions in the 15th century, its allure endured through the ages, culminating in a peak during the 17th century.
Schools of Mother of Pearl Craftsmanship
In the realm of mother of pearl craftsmanship, five distinct schools emerge, each with its signature approach and designs:
- Viennese School
Displaying its unique artistry from Vienna.
- Far Eastern School
Reverberating with the essence of the Far East.
- Istanbul School
Showcasing craftsmanship from the vibrant city of Istanbul.
- Jerusalem School
A manifestation of creativity from Jerusalem.
- Damascus School
Elegantly crafting with mother of pearl, El Palacio Damaskino specializes in the Damascus School, producing pieces that exude beauty, style, and individuality.
Craftsmanship Unveiled: The Inlaying Method
At El Palacio Damasceno, our process involves meticulous inlaying, bringing mother of pearl to life in our furniture creations. Our artisans mark the furniture surface with precision, employing a hard point. Subsequently, intricate motifs are carved using fine chisels, wire is applied to the grooves, and outlines are meticulously crafted to a depth of 2-3 mm. Finally, the captivating mother of pearl inlays are skillfully applied, embodying the Damascus Works method, a fusion of elegance and craftsmanship.
Contact El Palacio Damasceno for Exceptional Syrian Furniture
At El Palacio Damasceno, art is admired and craft is celebrated. According to our clients, El Palacio Damasceno is the hangout for all art lovers. So if you are looking for a true creative piece of furniture, we'd love to hear from you. You can leave your details on our 
contact us page
 and await a swift reply, or give us a call direct on
+34 9113 999 72
.