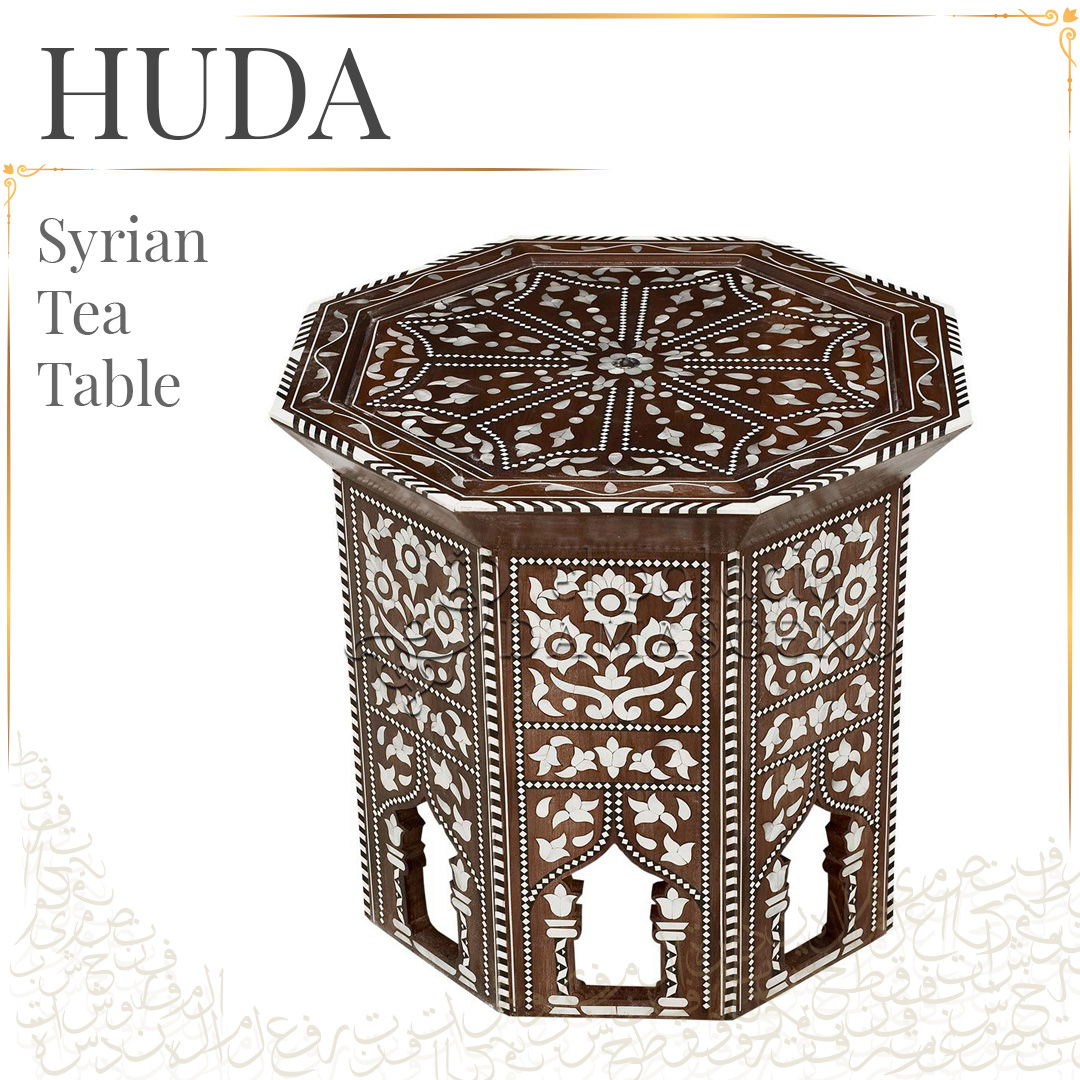 Syrian furniture from El Palacio Damasceno is created with the greatest attention to every detail. Our spectacular pieces feature beautiful mother of pearl and you can choose from a range of unique designs and furniture styles. Restaurant owners are always looking to transform the experience of their customers and Syrian furniture is a fantastic way to accomplish this."
Restaurant Design Ideas from El Palacio Damasceno
Make sure your customers dine in style by implementing some of our fantastic interior design ideas for restaurants from El Palacio Damasceno. Syrian furniture will  transform your room and improve the atmosphere of your restaurant. Whether you are a local restaurant with a view to make a positive change to your interior, or a five-star city restaurant looking to add more glamour to your fine-dining emphasis, take a look at the following selection of fantastic restaurant interior design ideas from El Palacio Damasceno:
Huda The spectacular Huda is a stunning piece of Syrian furniture that is perfectly suited to a number of restaurants. A gorgeous tea table, beautifully decorated with Mother of Pearl, the Huda has a unique octagonal shape and is handcrafted from walnut wood.
Muhsen The Muhsen picture frame enhances the artwork in your restaurant, bringing it to life. Featuring isometric patterns carved into walnut wood, the Muhsen picture frame will add vibrance to any picture and will capture the attention and imagination of those dining in your restaurant.
Misagi The Misagi hanging mirroris a simple, yet beautifully detailed addition to your restaurant. The sleek, curved frame and intricate floral patterns blend to give the Misagi an incredible beauty that has to be seen to be truly appreciated.
Syrian Furniture for Restaurants
Browse our full collection of Syrian furniture to find more designs that can add style, elegance and culture to any restaurant. Whatever pieces you are searching for, we will endeavour to help you find what you are looking for at El Palacio Damasceno. If you would like to speak to one of our expert members of staff and find out more about our spectacular Syrian furniture range, then please do not hesitate to contact us online, and we will be happy to help.