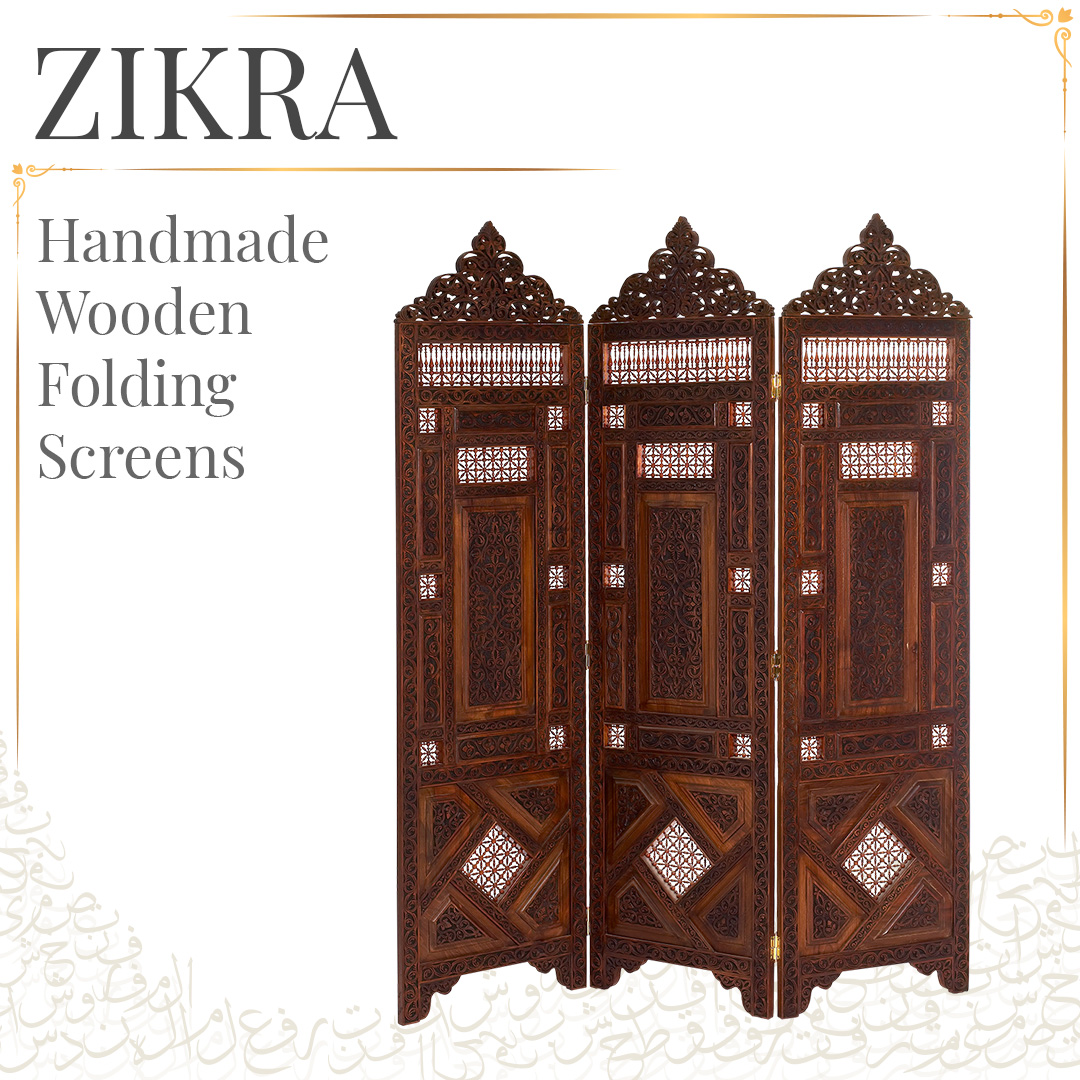 Today's modern interiors need to be multi-functional. The best interiors need to allow for private cosy spaces, as well as open free-flowing layouts, however not many architectural designs allow this to happen on their own.
Wooden folding screens, not only add a beautiful design element to a room, but also enable you to transform the layout, use and feel of a space. Our range of intricate wooden folding screens are all handcrafted, and make stunning yet functional additions to any interior.
1. The Zikra
Exceptionally hand crafted from Walnut wood, the Zikra separates itself from other products through its superior quality and craftsmanship. Created in a curved design, the Zikra is equipped with folding panels that neatly tuck away when not in use, as to occupy as little storage space as possible. Inlaid with a unique floral pattern that has been skillfully carved by hand, the Zikra looks dainty to the eye, but is wear and tear resistant due to being made from walnut. In addition, the joints on the Zikra are tightly coupled and will not loosen even with years of repetitive use. Fall in love with the Zikra.
2. The Fasila
Beautifully made by hand from genuine Syrian walnut wood, the fabulous Fasila is a combination of exquisite design and aesthetics that makes a truly exceptional piece of furniture. The design itself is unusual, in that it is made from four separate planks that are joined together, and connected with a flow of carvings. The carvings themselves are beautifully decorated with glistening pieces of mother of pearl, and the separator can also be customised with a unique design. Take a closer look at the Fasila.
3. The Alhali
The Alhali, or the 'delicate', is a beautiful piece carefully made by hand from pure walnut wood. The simple design is elevated by the design of intricate carvings, that have been exceptionally inlaid with beautiful, and sought after, pieces of mother of pearl. A popular choice as a changing space in bedrooms, the Alhali boasts a timeless design.
4. The Mustakbal
The Mustakbal, or the 'mediator', is unique in that it is made entirely from pure walnut wood. The extremely detailed carved design makes an extremely simple structure something exquisite. Every inch of the wooden design is covered with beautiful pieces of mother of pearl inlay, that is then stylishly engraved. The Mustakbal stands out from the other separators due to the rich honey shade it takes on once polished. Check out the Mustakbal Folding Screen.
Speak to the El Palacio Damasceno team today!
With EL Palacio Damasceno you can discover the highest quality of folding screens.
To talk directly to a friendly and helpful member of our team, give us a call now on +34 9113 999 72.
Or if you are unable to speak to us over the phone right now, you can also contact us online by completing our quick and simple online enquiry form.